The Great Tonle Sap - Kompong Khleang Lake Community (Private Tour)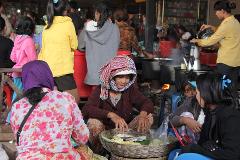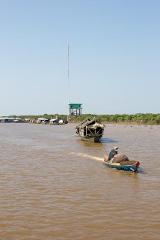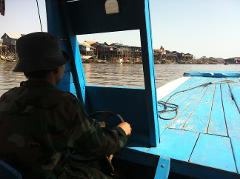 Duration: 6 Hours (approx.)
Product code: TSKK
Tonle Sap Lake
Villages and communities are an amazing site at any time of the year and there are a number of these villages that can be visited in Cambodia. Situated on the flood plains of the Tonle Sap lake the world around these homes undergoes dramatic transformation from dry to wet season. In the dry season homes tower on their tall spindly stilts. Fishermen repair boats and nets, children make clay balls to use with their sling shots and enjoy the freedom of being able to run around.
In the wet season the water laps at the floor boards of the houses, travel is limited to wooden canoes, boats and other makeshift watercraft; even large steel cooking bowls and buckets! Children paddle to and from school and life generally revolves around fishing. In Kompong Khleang, many families also have very simple houseboats that they use to venture out further onto the lake when the water is high.
Kompong Khleang floating community is located around 1 hours drive from Siem Reap and is generally accessible all year round, though it depends on the lake levels which vary from year to year. Just before turning off National Road No. 6, we stop at a small local market, Phsaa Thnal Jaek where you can see piles of fresh vegetables, local breakfast restaurants, tasty snacks and of course, fish fish fish!... still alive, freshly caught and salted and sun-dried all from the nearby lake.
We drive another 20 minutes before reaching the boat station, but before we do, we take a short walk in the village to see some of the stilted houses and local shops up close and to say 'bye bye' to the very friendly children and villagers. There are very few tourists in the village at this time, so it's a great time to get some photos and wander around.
We board the boat and motor through the village to see some of the houses from water level, and to see some of the fishing methods up close...such as 'fish badminton'! The first part of the village is stilted houses but as you progress further towards the lake, the houses disappear and are replaced by mangrove forest and open water. As the water recedes and the land starts to dry out, some fishing families become farmers, growing snake beans and watermelons know as some of the best in the the country.
Eventually you will reach the floating houses made up of Khmer and Vietnamese fishing families; you can easily tell the difference between their nationalities by the decoration of their houses. When the water is low, they relocate their floating abodes further out onto the lake.
Finally we arrive on the main body of the Great Tonle Sap lake; the guide will explain about what makes the lake so special and why it is so important to Cambodian and the whole region.
The Kompong Khleang Experience includes:
- Expert English speaking tour guide
- Private A/C transport with driver
- A visit to a local market
- A village walk to learn about daily life and to see the village up close and meet the people
- A 1 hour boat trip to explore the village and visit the lake
- Bottled Water and Towels
- Local snacks from the market
- Visit to a sticky rice village